Connecting to God Personally
Whether you have followed God your whole life, or are newly curious about who Jesus might be, our mission is to help you connect more deeply with the God of the universe who was revealed to us in Jesus.
Connecting to God's People
Sin has separated us not only from God, but from people as well. The work of Jesus reconciles us to one another, and as part of our mission we pursue intimate community with each other.
Connecting to God's Purposes
God is on a mission to renew the whole world. We join with God in this mission by caring for the poor, standing with the powerless, introducing people to their creator and advocating for the weak. This includes acts of compassion, justice and discipleship that are exemplified through the heart of God displayed for us in the Bible.
Compelled by God's love, we remove barriers in order to welcome all people into God's community.
They gathered in such large numbers that there was no room left, not even outside the door, and he preached the word to them. Some men came, bringing to him a paralyzed man, carried by four of them. Since they could not get him to Jesus because of the crowd, they made an opening in the roof above Jesus by digging through it and then lowered the mat the man was lying on. (Mark 2:2-4)
Freed from shame by God's grace, we offer one another truth and our true selves, both our weaknesses and strengths.
For what we preach is not ourselves, but Jesus Christ as Lord, and ourselves as your servants for Jesus' sake. For God, who said, "Let light shine out of darkness," made his light shine in our hearts to give us the light of the knowledge of God's glory displayed in the face of Christ. But we have this treasure in jars of clay to show that this all-surpassing power is from God and not from us. (2 Corinthians 4:5-7)
Awed by God's grandeur and mystery, we depend on God fully while holding convictions humbly.
"For my thoughts are not your thoughts, neither are your ways my ways," declares the Lord. "As the heavens are higher than the earth, so are my ways higher than your ways and my thoughts than your thoughts. (Isaiah 55:8-9)
Captivated by God's self-revelation, we seek wisdom by asking questions, wrestling with Scripture, and learning from many voices.
There the angel of the Lord appeared to him in flames of fire from within a bush. Moses saw that though the bush was on fire it did not burn up. So Moses thought, "I will go over and see this strange sight—why the bush does not burn up." (Exodus 3:2-3)
Inspired by the passion of Jesus, we share the burdens of others, and put love into action.
Do nothing out of selfish ambition or vain conceit. Rather, in humility value others above yourselves, not looking to your own interests but each of you to the interests of the others. In your relationships with one another, have the same mindset as Christ Jesus: Who, being in very nature God, did not consider equality with God something to be used to his own advantage; rather, he made himself nothing by taking the very nature of a servant, being made in human likeness. And being found in appearance as a man, he humbled himself by becoming obedient to death — even death on a cross! (Philippians 2:3-8)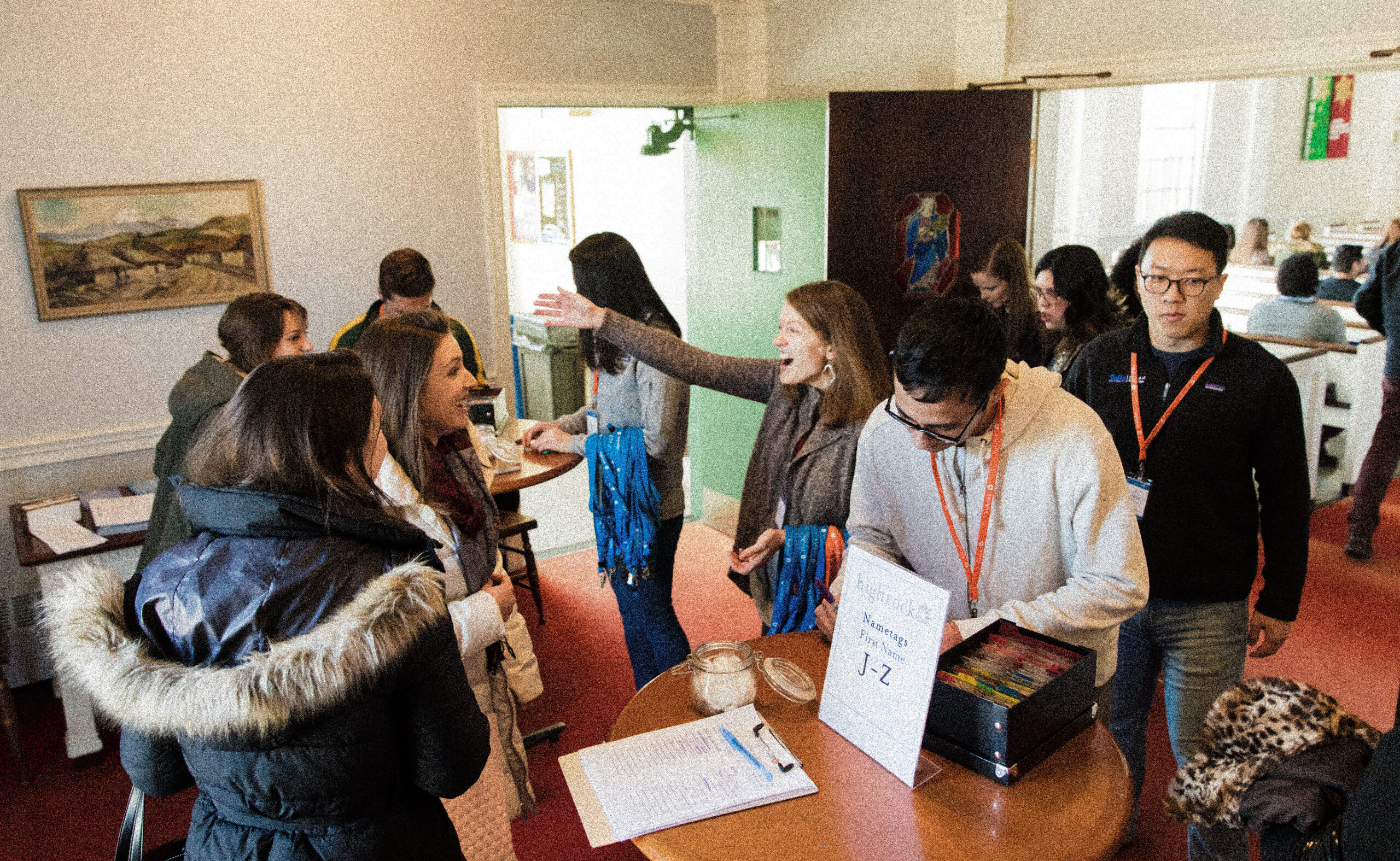 Our Story
Highrock began in 1999 around a dinner table. A small group of believers prayed for a church where people of all backgrounds, ages, and ethnicities could encounter Jesus. In time, this small group became a congregation, outgrowing several spaces in Cambridge and Somerville. In the Spring of 2006, Highrock set down roots in Arlington. Today Highrock is a dynamic and diverse spiritual community with a growing number of congregations throughout the Greater Boston Area. Highrock launched its Quincy congregation in 2012 with a small group of men and women who had previously been a part of Highrock churches in Arlington and Brookline. Since day one, Highrock Quincy has worshiped at The Covenant Church of Quincy building at 315 Whitwell Street. In 2019, these two churches voted to merge into one church. The rich 135 year legacy of The Covenant Church of Quincy and Highrock Quincy now lives on in the mission of newly renamed Granite City Church.  We hope you'll take the time to get to know us and join in what God is doing at Granite City Church!